Change Your Home With These Walk In Closet Ideas
Homeowners have so many ways to improve their home yet so many of them leave their properties the same for decades. Instead, homeowners should look for every opportunity to add onto their home, upgrade various appliances throughout, and do all kinds of creative projects to boost household convenience.
Revamp Your Room
One of the best ways to improve a homes look that is also quite practical is to revamp the bedroom closet. People love their closets.
In fact, we love our closet space so much that half of Americans surveyed said they would willingly give up sex for six months in order to have more closet space. Obviously, closets are vital to our homes. There are many types of closets, including standard clothes closets, modular closets, and walk in closets.
Of course, in our dream homes, every closet would be a walk in closet filled to the brim with the nicest clothes available.
Though you wont be able to acquire all those luxurious clothing items right away, you certainly can upgrade your bedrooms closet space, which will subsequently offer all kinds of convenient and practical benefits.
The following are walk-in closet designs that may revolutionize your closet spaces.
Small Closet Spaces
If you have a small walk-in closet, you may think there is not enough room to do anything with it. Think again. Hanging bars (CVC pipe, curtain rods, and the like can work) from room corner to corner or under shelving is a start.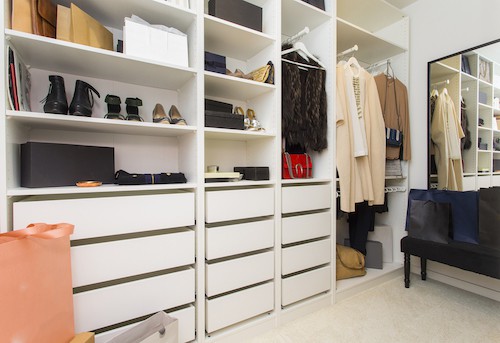 You can also hang a bar or rod, which is anchored to the ceiling along the longest wall of the closet.
Make your closet cozy. You can create a seating area in your walk in closet, which will add a comfortable and homey ambiance.
A small ottoman or chair is functional as well. Youll be able to sit while you put on your shoes, or you can have a sitting area to clothing decisions. A seat in your closet is perfect for a secluded area where you can relax with a cup of coffee or tea.
Mid-Size Closets
Walk in closets are not only a space for clothing. You can use the space for your clothing accessories. You may even want to create a small display. Create your own mini Nordstroms. Build in a shoe or tie rack for a practical yet fresh look. If you think in terms of sliding shelves and cubby holes, youll not lose precious space.
Maybe you have the flair of a movie star. With the proper lighting and full-length vanity mirrors, youll feel like Greta Garbo or Marilyn Monroe preparing for a big scene. Escape the bathroom and use your walk in closet vanity for makeup and hair.
Add Some International Flare
Now that you have a few ideas to spruce up your walk in closet, you can scour the world for more cosmopolitan touches. Scandinavian and some European countries are known for their pretty and well-managed spaces, including their closets.
Japanese design will add efficiency and usability. Choose other locales for color schemes and other design elements that will add spice and charm to your closet spaces.
Even though there are many types of closets, the ones that matter are yours.
You dont have to have the biggest closet, but all that extra space will certainly improve your homes look and your entire life.
Rather than shuffling through your cramped, smaller closet every morning, youll enjoy a much larger, much nicer-looking walk in closet.
When you choose to redesign your walk in closets, your choices are many, but the fresh new look, practical applications and ambiance will solidify your enjoyment of this cherished space. If youre ready to improve the look and feel of your home and start redesigning your bedroom closet space, give 180 Closet Design a call right away.